Utilising Nanosealz nano technology to repel rain, sleet or snow, whilst maintaining breathability and softness, the Stretch Fleece Nano is the perfect multi-use glove.
Features:
Water repellent – Nanosealz technology provides a surface layer of protection from the elements
Firm handling and increased grip – Chevron printed silicone grip palm and fingertips
Touch screen compatible – Feature on thumb and index finger
Fast drying times meaning less time in wet kit
Easy to get on – Durable pull tab on cuff
Comfort and durability – Double cuff
Material
95% Polyester, 5% Elastane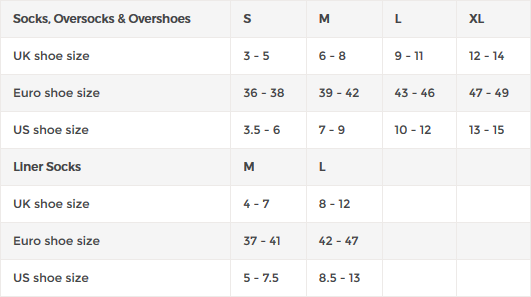 The measurements above are your shoe size, so if you are a UK size 7 we recommend you would be a size M (Medium).
If you are at the top of a size such as a UK 8 to 8 1/2 we recommend you move up in size as our waterproof socks are thicker than normal socks.